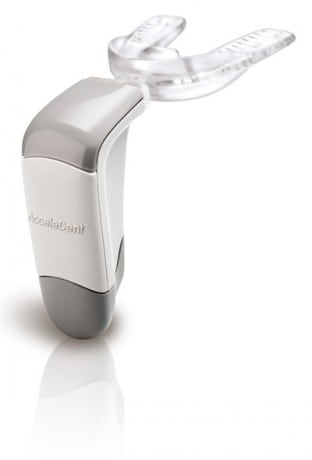 You only have one life to live, and the best way to achieve a successful one is to feel confident in the expression of positive emotions. Therefore, a bright and attractive smile is important in more ways than we often consider. Whether you are new to the Brunswick or North Royalton area or are otherwise seeking orthodontic care, finding a provider who values building a long-term relationship is crucial. When you work with our caring staff, you'll feel like part of a family. We understand the importance of having oral health needs prioritized.
Many Benefits of AcceleDent® Aura
Our staff can discuss with you the many benefits technology has to offer in orthodontics. One such example is AcceleDent Aura. The AcceleDent Aura is FDA-cleared, Class II medical device makes it easier and quicker than ever to achieve your goals as it only takes 20 minutes per day to apply. Micropulses are effectively delivered to the impacted teeth, and this allows the bone remodeling process to progress up to 50 percent more quickly. We have access to this breakthrough innovation, and you can benefit in that:
You'll spend less time in our office.
You'll experience less discomfort and actually be able to feel your teeth moving in the right direction.
There's no surgery required.
Any orthodontic patient can benefit regardless of the type of malocclusion.
Proper Oral Health
In orthodontics, patients often focus on the aesthetic purpose of treatment. However, it's important to also recognize that proper alignment is also good for your overall oral health. When our patients come in for their initial appointment, we take time to carefully assess their current alignment as well as discuss all the possible options available that would provide a viable solution. We make it our priority to work with you and keep you educated on how to best achieve and maintain the smile you deserve.
A Variety of Services Available
With the exponential way in which technology is advancing, it can be difficult to keep up with the changes. Our staff puts a high priority on staying current on the latest innovations being made in orthodontics. We believe in working smarter instead of harder, and our patients appreciate the result of this quality as they are more quickly able to achieve a beautiful smile. Aside from AcceleDent Aura application, some of the other valuable services we proudly offer our patients include:


Oral and maxillofacial treatments
Common treatments
Surgical services when necessary
Dentofacial orthopedics
A Relationship You Can Count On
You only get one set of adult teeth in your lifetime, so it's important to do everything possible to preserve yours. With the help of our experienced staff, we can do just that. We have access to the latest tools and advancements in orthodontics, and we go the extra mile to make you feel like a part of our family. The expression of positive feelings should never be hidden, and we put our skills to work to ensure you are confident in your smile. Call our office today at: 440-582-8585 to schedule an initial appointment today to help us achieve in our goal of changing lives one smile at a time.
AcceleDent Aura