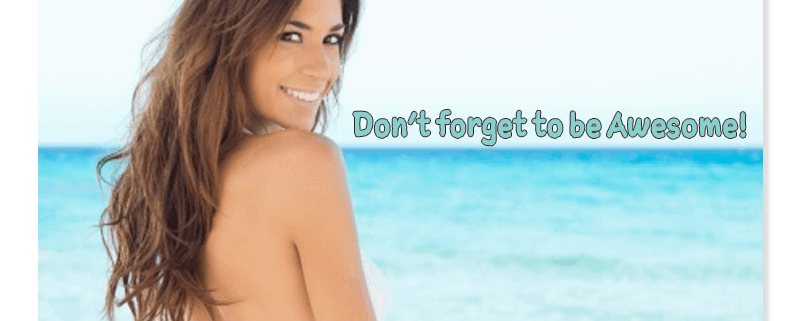 Don't forget to be awesome!
If you're like most of us, your days are full. You have people counting on you to perform a multitude of tasks. Many of these tasks are tedious drudgery such as doing the laundry, paying bills, or mowing the lawn. Others are not particularly draining, but still, require your time. Shuttling your children to lessons and practices falls in this category.
When life gets fast, it's easy to forget our:
keys at home
credit card in the chip reader at checkout
little darlings at their friends' houses.
Never Forget
No matter how many other things you forget, there is one thing you must never, ever forget and that is to be awesome. No, I'm not talking about being super mom, super dad, or merely living in their super castle. I'm also not talking about being on your best behavior all the time. I'm talking about being awesome and the good news about awesome is that it is whatever you want it to be. It's fine if you want to be the neighborhood font of wisdom, but it's equally fine if you want to be as sassy and wise-cracking as possible. The world needs more fun anyway – and that's exactly what I'm talking about; Being awesome is fun. Being awesome is being any way that makes you feel good. Being awesome is being who you want to be and if who you want to be is different than who you are, the fact that you're reading this means you can still change.
So, slow down a little, smile a lot more and, if you'd like help keeping your smile looking as awesome as you feel, give us a call. After all, Dr. Andreas' real specialty is making your smile even more awesome.
Call Papandreas Orthodontics to Schedule Your First Orthodontic Appointment
Dr. Samuel Papandreas provides expert orthodontic care for adults, teenagers, and children at his facilities in:
• Brunswick, Ohio
• North Royalton, Ohio
His patients are fitted with customized orthodontic devices that include:
• Braces – color-matching ceramic or metal devices
• Retainers – worn at night when your braces are removed
• Invisalign aligners – clear plastic devices
• Palatal expanders – worn before your orthodontic treatment begins
You can schedule an appointment with Papandreas Orthodontics to learn about the best type of orthodontic treatment for you and your children to improve your smile correct your dental bite.
Papandreas Orthodontics
3511 Center Road, Suite B
Brunswick, OH 44212
tel: 330-558-9092
***
14200 Ridge Rd
North Royalton, OH 44133
tel: 440-582-8585
https://drpapandreas.com/wp-content/uploads/2017/04/PapanandreasOrtho1-April2017.png
600
800
Dr. Sam
https://drpapandreas.com/wp-content/uploads/2016/04/logo-dr-papandreas.png
Dr. Sam
2017-04-13 10:00:00
2019-10-20 21:50:37
Don't forget to be awesome!