Last Updated on
I never get tired of smiling. I'm just the kind of guy who likes to smile. – Jason Ritter
You Can Enjoy Smiling Just Like Jason Ritter Does In His Television Shows
Jason Ritter is an actor who enjoys smiling, and he smiles a lot without getting tired of doing it in his everyday life or television programs. If you want to smile all of the time, then you need to have straight teeth. Today, you can visit an orthodontist to have your teeth repaired with Invisalign aligners. First, you must have an examination from an orthodontist to understand the type of malocclusions that you have. At an orthodontic facility, you can have a thorough examination with computerized medical images to determine if you have mild or serious malocclusions.
You Can Have an Attractive Smile While Undergoing Orthodontic Treatment
If you are an adult with mild misalignments, then it is easy to have multiple sets of plastic aligners made in different configurations so that your teeth shift slowly into the correct positions. You will throw away a set of aligners every two weeks to switch to a new set. Alternatively, children and some adults or teenagers will need to wear braces instead. Wearing brackets and wires don't meet that you will have a metallic smile because modern braces are often placed on the backs of your teeth. You can also request invisible wires and color-matching ceramic brackets for your teeth instead of metallic brackets or wires.
Call Papandreas Orthodontics Today To Schedule an Appointment
Dr. Samuel G. Papandreas has a state-of-the-art orthodontic facility in North Royalton, Ohio. This location is close to Parma and Brunswick, making it easy for the residents of these cities to schedule an orthodontic appointment. At Papandreas Orthodontics, you can undergo treatment with these devices:
• Invisalign – comfortable plastic aligners
• Braces – ceramic brackets or metal wires
• Retainers – recommended after orthodontic treatment ends
You can schedule an appointment with Papandreas Orthodontics to learn about the best type of orthodontic treatment for you and your children to improve your smile correct your dental bite.
I never get tired of smiling. I'm just the kind of guy who likes to smile. – Jason Ritter
Papandreas Orthodontics
3511 Center Road, Suite B
Brunswick, OH 44212
tel: 330-558-9092
***
14200 Ridge Rd
North Royalton, OH 44133
tel: 440-582-8585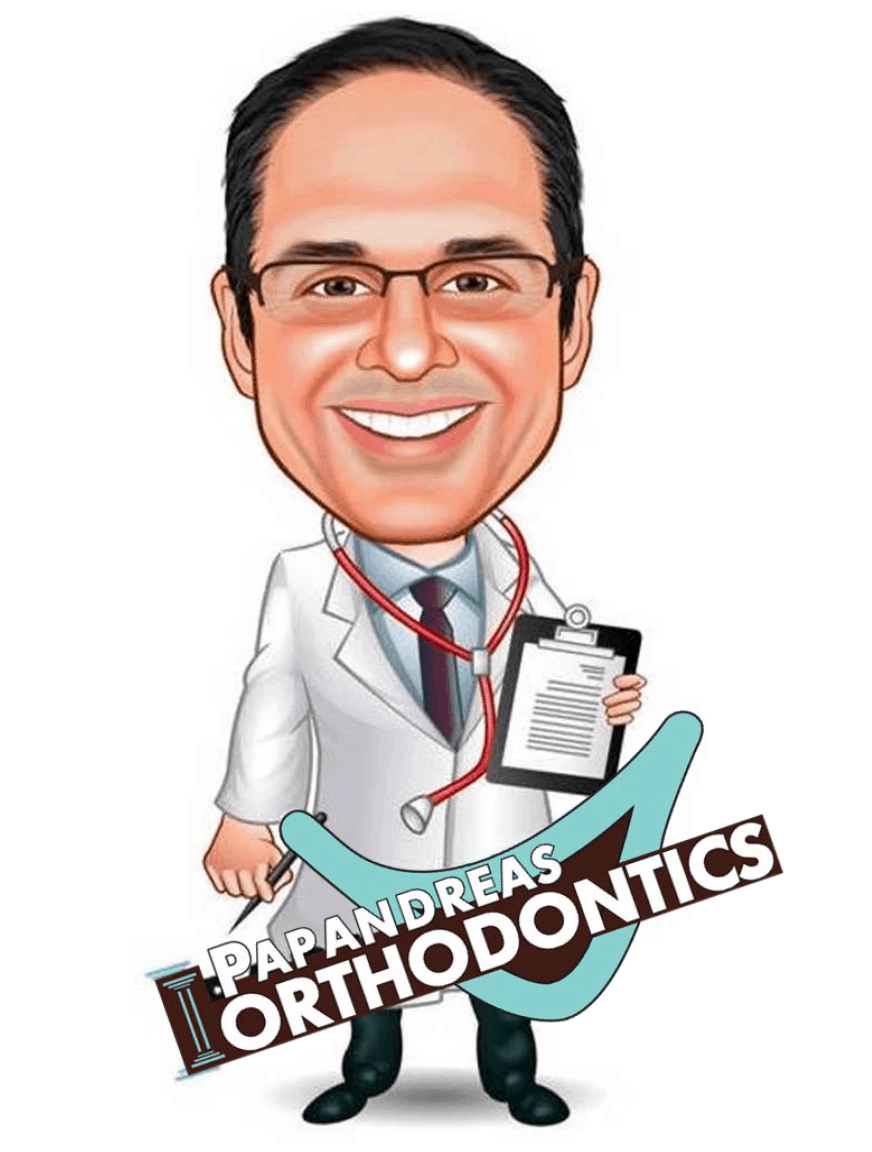 Dr. Papandreas is a member of the American Association of Orthodontists, Cleveland Dental Society, Ohio Dental Association and the Schulman Study Group of top orthodontic practices nationally.
https://drpapandreas.com/wp-content/uploads/2017/05/8.Pap-May2017.png
800
800
Dr. Sam
https://drpapandreas.com/wp-content/uploads/2016/04/logo-dr-papandreas.png
Dr. Sam
2017-06-22 10:00:00
2019-05-04 10:40:48
I never get tired of smiling. I'm just the kind of guy who likes to smile. – Jason Ritter