What is OrthoPulse?
Papandreas Orthodontics is proud to be North Royalton and Brunswick's leader in accelerated orthodontic treatment. For those patients interested in speeding up their comprehensive care, we utilize a new, safe technology called OrthoPulse that harnesses the power of infrared light. When using this technology for only 10 minutes a day, patients can decrease their overall treatment time by as much as 50%, effectively reducing the average twelve month treatment plan to 6 months.
OrthoPulse®
 is a battery-operated device specifically designed to promote accelerated tooth movement using near infrared light. The therapy is delivered through a soft mouthpiece that is made for use with both braces and clear aligners.
Each self-administered treatment session is ten minutes long and can be tracked on an iPhone or Android smartphone using the OrthoPulse app. This app will help you stay motivated not to miss sessions and achieve a great smiles faster. Dr. Papandreas can also monitor treatment data through the app, and discuss your progress at you regular appointments in his offices.
What are the Advantages of the OrthoPulse System?
The main advantage of using OrthoPulse is the ability to accelerate orthodontic treatment, completing a comprehensive treatment plan in less time. Dr. Papandreas work directly with each patient to develop a customized plan that uses either braces or clear aligners, along with OrthoPulse. This technology is great for patients who have time sensitive goals (ie. Leaving the area, graduation or getting married, etc.) or simply want straighter teeth and want it to happen faster! It enhances clinical outcomes and dramatically reduces treatment timelines in a safe, effective and non-invasive way.
What is Near Infrared Light and How Can It Promote Tooth Movement?
More than half of the sunlight that reaches earth is Near Infrared (InR) light. In addition to making the days brighter and warmer, InR light can be absorbed by the body's cells where it transforms into adenosine triphosphate, or ATP. ATP is cellular energy that can be harnessed by bone and tissue cells that surround the teeth to support a comprehensive tooth realignment program.

Let's Look at the Advanced Features
A one-size-fits-all Silicone Mouthpiece that is made of waterproof and pliable medical grade silicone.
The LED Array provides safe, gentle 850nm of Infrared Wavelength light.
An on-board Accelerometer times each session without wires or other extraneous equipment
A Battery with wireless recharging capabilities makes it easy to maintain power.
The included Advanced Bluetooth 4.0 makes it possible to track treatments
Light Status indicators show time remaining during each treatment and battery life.
Free Treatment Tracking Apps, available for Apple and Android smartphones, monitor progress and allow sharing of information at your orthodontist appointments.
Aside from quicker treatment time, OrthoPulse is a US FDA approved appliance that delivers a safe and proven treatment with braces and clear aligners. The manufacturer's website, in fact, lists several academic institutions that have researched the device. Another advantage of this therapy is that it requires a relatively modest time commitment; ten minutes per day is easy to fit into even the busiest of schedules. The device itself is also easily transported so treatments can be performed at home, at the office or in hotel rooms while traveling for business or pleasure. Avoiding interruptions in therapy promotes consistency and improved results over having to reschedule or skip treatments altogether.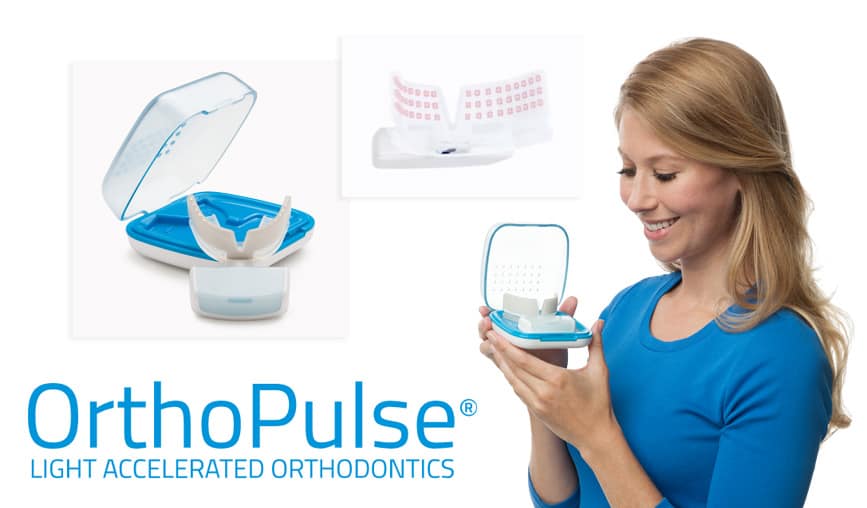 Do You Want to Learn More About OrthoPulse?
If you're intrigued by what you have read here about OrthoPulse and want to know more or would like to see if this therapy is a good fit for you, we'd be glad to help. Please complete our online Appointment Request Form, take a Virtual Consultation from the comfort of your home or call us today at: 440-582-8585 and a member of our team will help schedule an expert consultation with Dr. Papandreas at your earliest convenience.
OrthoPulse