OAIDT
Dr. Pa

pandreas is the founder and director of the Ohio Academy of Interdisciplinary and Dentofacial Therapy (OAIDT), a member-led professional cooperative education organization.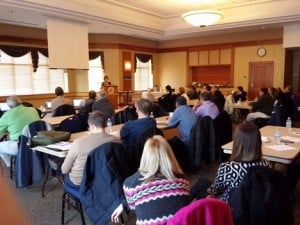 OAIDT advances the scope of total patient care through advanced learning, shared knowledge and interdisciplinary study and techniques. Member doctors come from area general and specialty practices across the dental and medical spectrum. They meet monthly to exchange ideas, demonstrate new methods of care delivery and hear state-of-the-art presentations from national and world-renown speakers.
Dr. Papandreas facilitates OAIDT meetings, prepares monthly agendas and selects speakers and member case presentations. As an American Dental Association-CERP approved continuing education provider he enables OAIDT members to complete their continuing dental education credits. Betsy Klos, Papandreas Orthodontics' new patient coordinator, started and facilitates the OAIDT office staff members' study club. During monthly meetings participants exchange ideas on topics ranging from office management and marketing to advanced patient care.
Professional Organizations