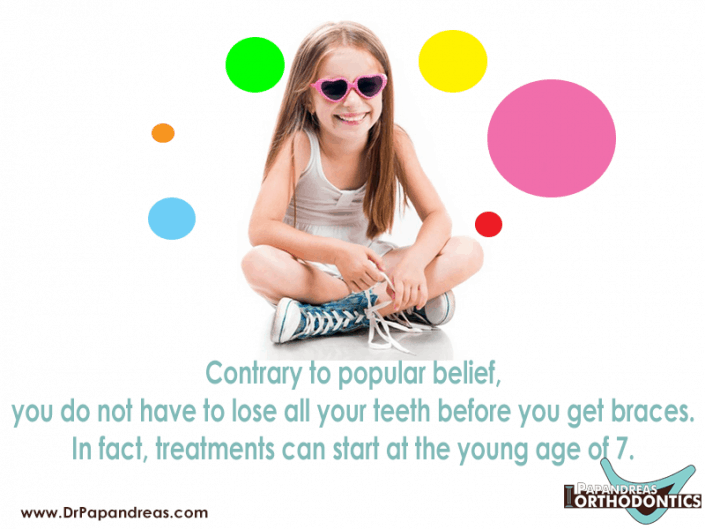 Orthodontic Fact #4 Contrary to popular belief, you do not have to lose all your teeth before you get braces. In fact, treatments can start at the young age of 7
Though it's true that an orthodontist usually waits until a person's permanent teeth have grown in before they fit them with braces, there are exceptions. Some children are fitted with what are called Phase I braces, or partial braces while they still have their baby teeth.
Phase I
Phase I orthodontics are applied if the child has a severe problem that must be attended to before their permanent teeth come in, such as a crossbite. Waiting to fix the problem until the permanent teeth erupt can lead to trauma such surgery on the jaw or the removal of some permanent teeth.
Phase I expands the child's upper jaw, begins the straightening of the teeth and makes sure that the upper and lower jaws come into the proper relationship to each other. Phase I usually lasts between nine and 18 months. It is replaced with retainers worn for four to six months or until the child's permanent teeth come in. This is usually between 11 and 12 for girls and 12 and 13 for boys.
Phase II
When the permanent teeth erupt, the child can then be fitted for Phase II orthodontics, which are usually worn between 12 and 18 months to continue the alignment of the teeth. Older children can be fitted with Invisalign trays. These are clear trays that are custom made to help straighten the child's teeth, but they can only be prescribed by an orthodontist if all the teeth save the wisdom teeth have erupted. Therefore, the earliest age a person can wear Invisalign is between 10 and 14. The trays are kept in for 23 hours a day and are removable by the patient to allow them to eat what they want and perform their usual oral hygiene.
Call Papandreas Orthodontics to Schedule Your First Orthodontic Appointment
Dr. Samuel Papandreas provides expert orthodontic care for adults, teenagers and children at his facilities in:
• Brunswick, Ohio
• North Royalton, Ohio
His patients are fitted with customized orthodontic devices that include:
• Braces – color-matching ceramic or metal devices
• Retainers – worn at night when your braces are removed
• Invisalign aligners – clear plastic devices
• Palatal expanders – worn before your orthodontic treatment begins
You can schedule an appointment with Papandreas Orthodontics to learn about the best type of orthodontic treatment for you and your children to improve your smile correct your dental bite.
Papandreas Orthodontics
3511 Center Road, Suite B
Brunswick, OH 44212
tel: 330-558-9092
***
14200 Ridge Rd
North Royalton, OH 44133
tel: 440-582-8585
https://drpapandreas.com/
Orthodontic Fact #4 Contrary to popular belief, you do not have to lose all your teeth before you get braces. In fact, treatments can start at the young age of 7