Papandreas Orthodontics
Orthodontics is a specialized branch of dentistry that involves the diagnosis, prevention and treatment of dental and facial irregularities. An orthodontist is highly-skilled at using various techniques to bring teeth, lips and jaws into proper alignment.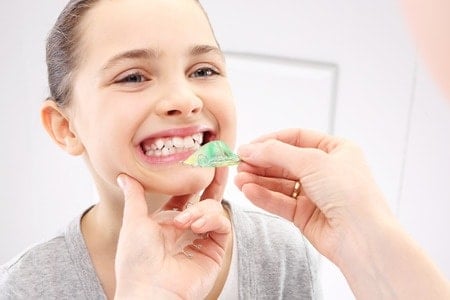 Correcting bites, occlusion, and crooked teeth is orthodontist Samuel Papandreas' specialty. As an Elite Preferred Invisalign Provider, Dr. Papandreas' mission is to provide superior speciality Orthodontics and Dentofacial Orthopedics for each one of his patients within a nurturing setting.
But you may hate the idea of wearing bulky-looking metal braces! Choosing Invisalign is a great solution if this your concern. Not only are these teeth appliances virtually undetectable, they're also removable. As a result, you can eat and drink as well as brush and floss at leisure during treatment.
Dr. Papandreas also offers iBraces, which are installed behind your teeth and away from onlookers' view. Each patient's iBraces are 100% customizable, which results in effective, efficient tooth movement. iBraces are ideal for athletes who play contact sports, adult professionals, musicians who play wind instruments, or individuals concerned about the effect braces would have on the front of their teeth.
Making a Decision
Choosing the right orthodontist is an important decision. The Papandreas Orthodontics website is designed to make this decision easier. We encourage you to browse our online office to find the right treatment method for you. Take a few minutes to read our patients' testimonials, and read about our philosophy, state-of-the-art services and expert staff. We can schedule a free orthodontic consultation to:
• Diagnose your dental issue(s)
• Explain your treatment options and answer your questions
• Empower you to successfully reach your goals once a treatment option is chosen
Dr. Papandreas falls within the top 1 percent of Invisalign providers in North America, for expertise and experience. His practice offers braces and Invisalign for kids, teens and adults in the North Royalton and Brunswick, OH area including Brecksville, Broadview Heights, Brunswick, Independence, Middleburg Heights, Parma Heights, Parma, and Strongsville.
Contact us by phone North Royalton: 440-582-8585 – Brunswick: 330-558-9092, fill out our online request form today or in person at a practice.
14200 Ridge Rd
North Royalton, OH 44133
***
3511 Center Road, Suite B
Brunswick, OH 44212
What's the Difference Between an Orthodontist and a Dentist?