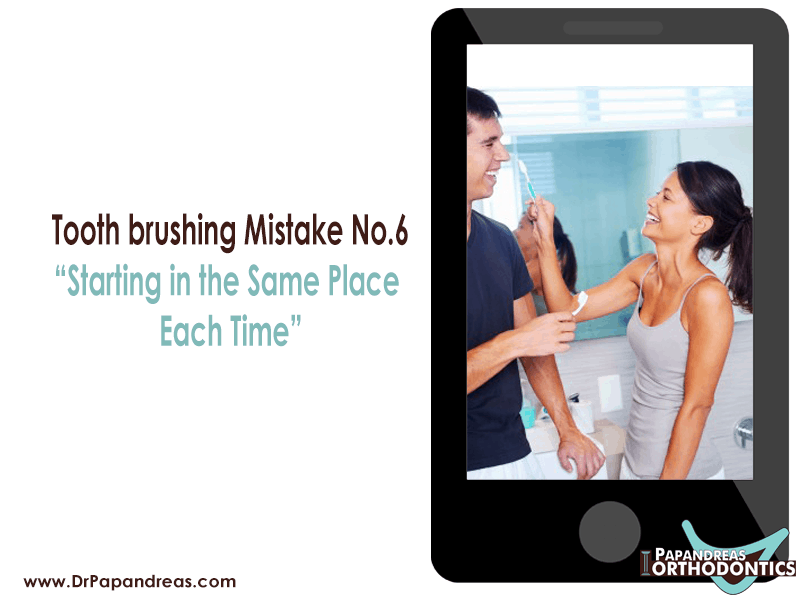 Chances are, if you're like most people, you start by brushing the front of your teeth. That makes sense – it's the first thing people see. The problem is we get lazy when it comes to brushing molars, chewing surfaces and the back of the teeth. If that's you, it's time for a change.
A More Effective Clean
If you've ever watched your kids clean, you know they start out with enthusiasm and it wanes. They also pay close attention to one area. The same goes for their teeth. Even if they're brushing for the recommended two minutes, the most time and attention is given to the starting point. The same is true for adults.
For kids with braces or an invisalign, tartar and build-up can get missed, particularly if they start in the same place every time. Talk to your orthodontist to identify problem spots and encourage healthy brushing techniques. Make sure you practice them, too!
Toothpaste is stronger
Your toothpaste is at its most effective when you start brushing. It loses its strength while brushing. Constantly starting in the same place prevents an even clean. Mix up your starting place! Begin in the back, or in an odd place so it's never the same. Also, brush gently at a 45 degree angle to avoid damage to your invisalign and future gum complications. You want your teeth to get the most out of your brushing time.
Starting at the same place every time you brush your teeth is bad news for your mouth. Instead, spend about 20 seconds on each part of your mouth for an all-over clean. Find silly games to play with kids to teach healthy tooth habits.
Help Others Smile
Dr. Samuel G. Papandreas is an excellent orthodontist in North Royalton and Brunswick, who provides a variety of specialized orthodontic treatments such as:
• Surgical orthodontics
• Dentofacial orthodontics
• Two-phase treatment
• Palatal expanders
• Invisalign
• Braces
You can schedule an appointment with Papandreas Orthodontics to learn about the best type of orthodontic treatment for you and your children to improve your smile correct your dental bite.
Papandreas Orthodontics
3511 Center Road, Suite B
Brunswick, OH 44212
tel: 330-558-9092
***
14200 Ridge Rd
North Royalton, OH 44133
tel: 440-582-8585
https://drpapandreas.com/
Tooth Brushing Mistake Number 6: Starting in the Same Place Every Time